2022 Geography Department Newsletter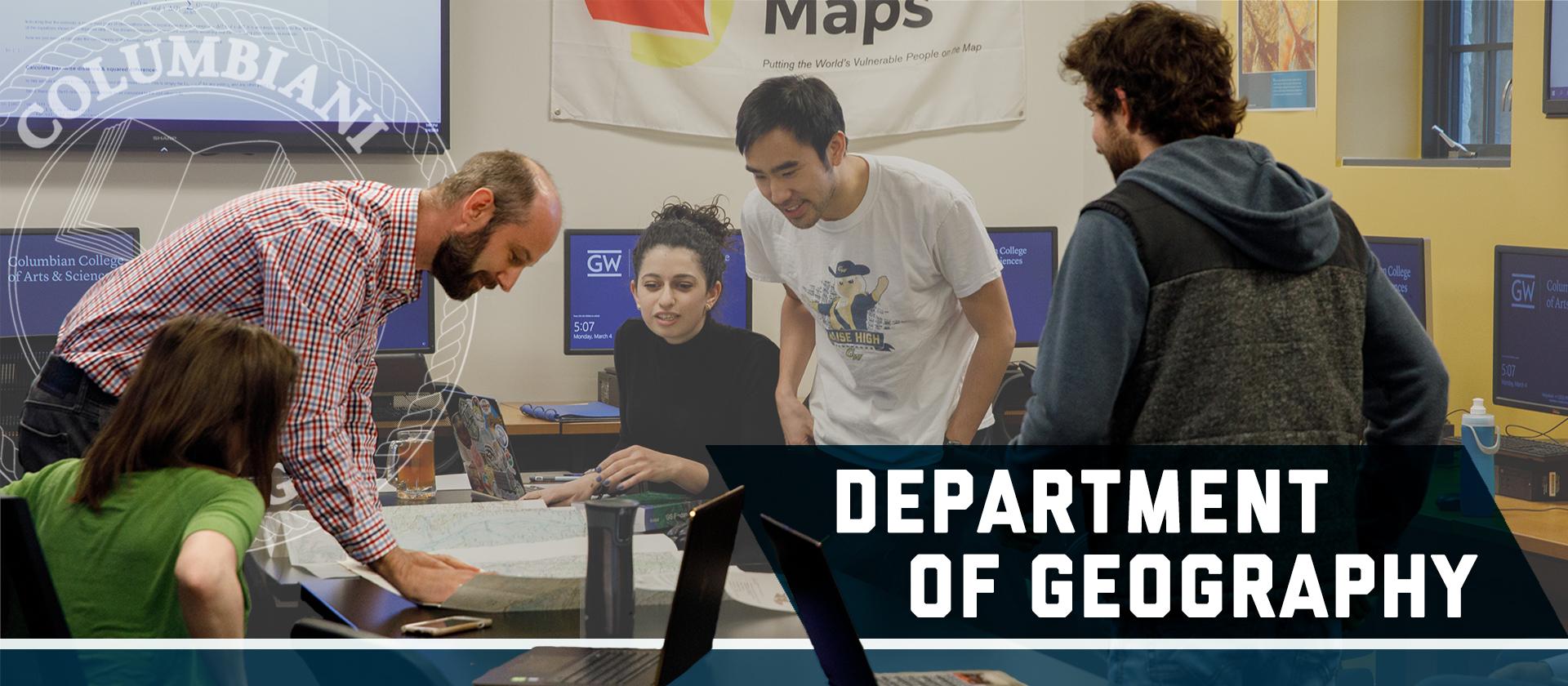 Message from the Chair
Department Spotlights
Department Kudos
Alumni Class Notes  
---
Message from the Chair
Dear Geography Alumni,
The 2021-22 academic year was marked by a return to a kind of new normalcy for GW Geography and Environmental Studies, given the still-threatening COVID-19 pandemic. Professors, staff and students were back on campus in the fall, everyone wore masks in the lecture halls and labs and most office hours were conducted over Zoom. We dealt with computer issues, expired passwords and mandatory antibody testing. And yet still there was a palpable sense of relief and excitement at being back together again, given what everyone's been through over the last two and a half years.
With the pandemic on the wane, many students of Geography and Environmental Studies returned their attention to persistent global issues such as climate change, food insecurity and persistent inequities. In many of our classes, such issues are front and center. Our students gain insights and knowledge not only about problems presented to all of us on a daily and even hourly basis, but they also gain understanding of underlying patterns and structures. Equipped with geospatial technologies (geographic information systems, remote sensing and spatial analysis), but also appreciation of patterns and structures, our students learn how to reason. This aids in providing new ways of seeing persistent problems, whether that's wildfires, changing conditions on the farm or cities built upon thawing permafrost.
In the face of these ongoing challenges, there have been accomplishments to celebrate. Faculty who had to learn remote teaching during our prolonged isolation now could be back in the classroom working with undergraduates, graduate students and collaborators from around the campus and around the world. Several faculty members were recognized for their excellence in teaching and service. Dr. Marie Price received the much-deserved Trachtenberg Prize for Service for her countless years on every imaginable committee as well as the Faculty Senate. A number of other faculty were nominated for teaching awards. The two new faculty who joined us last year—Dr. Aman Luthra and Dr. Moses Kansanga—now have physical offices in the department.
Geography faculty published more than 50 peer-reviewed research articles and books this past year, and they received almost $18 million in external grants. Our faculty were also featured in numerous media stories that tapped into multiple layers of expertise.
Our students too have excelled. Our master's students completed impressive thesis and capstone research projects, despite the relative lack of in-person mentoring and advising. Our undergraduates worked closely with faculty to conduct research on migration, Arctic climate change and numerous other projects.
Master's capstone projects included such efforts as examining the legacy of mountaintop removal (Jonathan Kvilhaug), incorporating water testing in an active learning project (Roman Velasquez) and the spatial distribution of vaccine hesitancy (Matt Sosa).
Master's thesis topics included discussions on quantified land cover and land use change within Russia (Arina Morozova), extending the timeline of land cover data in Northern China (Brooke Iacone), the cost of climate change to Artic communities (Sonia Clemens) and using time series segmentation to generate land cover classifications for inner Mongolia (Mia Murray).
Our student-led Humanitarian Mapping Society has continued to hold Map-a-thons. Their work mapping vulnerable communities and enabling international and local organizations to improve their response to crises has been vital during the pandemic.
Now that we appear to be on the other side of the latest omicron wave, we hope things will normalize even more in the coming year.
Warm wishes to all of you in difficult times and may you, your family and loved ones stay healthy and safe.
Sincerely,
David Rain
Department Chair
---
Department Spotlights   
Geography Department Celebrates Faculty Achievements
The department is honored to announce that our very own Dr. Marie Price has been awarded GW's Oscar and Shoshana Trachtenberg Prize for Service and Dr. Aman Luthra became the latest geography faculty member to be awarded a Fulbright Scholarship. 
The Trachtenberg Prize for service is awarded to a faculty member that exemplifies leadership and forward thinking outside of their daily duties. Dr. Price has continued to advocate for our department and students over the last three decades with resilience. Some of her many service roles include: director of graduate studies in geography, CCAS Dean's Council, ESIA director of Latin studies, member of the Cultural Leadership Team and member of the Faculty Senate.
Dr. Luthra will travel to India to study the uberization of recycling. Read more about his work and the other recipients in the CCAS Spotlight e-magazine.
---
We wish to express our immense appreciation for the generous donation by Karen and Rhys Young, BA '16, to the Geography Department, which funded the creation of a computer lab space for students in Samson Hall. The new lab is equipped with eight networked computers, a 55 inch digital display and web-camera. Completed in March, students were able to work on end-of-semester thesis and capstone presentations, posters, course work and proctor exams in the space. 
---
Department Kudos
The Department of Geography is pleased to announce the recipients of the annual Joseph Dymond Award. The Joseph Dymond Award was established in 2019 through the generous contributions of family, friends, and colleagues in memory of Professor Dymond, who passed away that year. This is the first year that the department is able to award the scholarship. Read more about the Joseph Dymond Award and the selected recipients.
At the end of each year, the Department of Geography and Environmental Studies present awards to graduating students that show outstanding leadership qualities and academic excellence. See the full list of winners.
Professor Ginger Allington was featured on the NASA Earth and Applied Sciences website.
The Geography Department closed out a fantastic year with a graduation party for students and their families.
Professor Scott Sklar spoke to Spectrum News about the importance of the United States moving away from fossil fuels.
Professor Dmitry Streletskiy was featured in The Straits Times about fighting the thawing of Arctic permafrost.
---
Alumni Class Notes
John Buarotti, BA '11, is a senior media relations specialist for the Association of American Medical Colleges. He also leads communications efforts aiming to help academic medical centers improve access to care for medically-underserved and marginalized communities.
Brendan Conley, BA '22, was in Washington, D.C., for the summer interning at SolSystems and began graduate school at GW this fall.
Raynell Cooper, BA '15, served on the San Francisco Redistricting Task Force, which re-drew the district boundaries for local legislative elections in San Francisco.
Jose Curbelo, BA '12, is completing a doctoral degree at the University Federal de Pelotas in Brazil. He participated in the CAPES Print Institutional Internationalization program at the University de Cádiz in Spain, and researches in the regions of northern Uruguay, Portugal and Spain.
Alexander Erdman, BA '21, teaches English in Nichbisi, Georgia.
Frederick Hoeschler, BA '95, is a captain for Endeavor Airlines, a regional airline for Delta Airlines. Flying has allowed him to see how the U.S. geography has shaped cities and population growth.
Devlin Howieson, BA '15, is a geospatial analyst with the National Geospatial Intelligence agency, focusing on China C4ISR.
Julia Kaplan, BA '07, presented a poster at the 3rd National PFAS conference in Wilmington, N.C. She is beginning a PhD in epidemiology at UNC-Chapel Hill and was awarded a NIEHS T-32 predoctoral training grant.
Matilda Kreider, BA '20, works on wind energy planning and equity at the National Renewable Energy Laboratory in Colorado.
Zhaohui Li, MA '16, is pursuing his second master's degree at NYIT-Vancouver, majoring in cyber security of computer science.
Elizabeth Lobecker, BA '00, has been leading seafloor mapping operations for over 20 years for offshore marine resource management in the United States and international government and private sectors. She recently started working for a global maritime technology company.
Evan Magallanes, BA '21, is pursuing a Master of Public Policy from the Lyndon B. Johnson School of Public Affairs at the University of Texas at Austin, with a concentration in renewable energy and environmental policy.
Jon Moore, BA '95, celebrated 10 years with the Educational Testing Service in 2021. He is the lead test developer for the Advanced Placement Human Geography Exam and manages geography teacher licensure exams for the state of Georgia and the Praxis Exam series.
Deidre O'Leary, BA '91, lives in Northern Virginia and recently celebrated 23 years of employment as an all-source intelligence collection manager.
Jeffrey Pietka, BA '03, has worked in tourism for 18 years including two as a ranger at Glacier Bay National Park. In a pandemic pivot, he opened his own tour company, Adventure Day Touring, offering private and custom tours from his hometown of Portland, Ore.
Maeve Pinto, BA '05, lived at the Baha'i World Center, in Haifa, Israel, for six years, where she met her husband, Sandeep Singh. She returned to her native New Jersey and works as a proud mother and research librarian for the New Jersey State Legislature.
Sandi Schwartz, BA '99, recently published her first book, Finding Ecohappiness: Fun Nature Activities to Help Your Kids Feel Happier and Calmer (Quill Driver Books/Linden Publishing).
Andrea Tennison, BS '99, is a senior associate at Booz Allen.
Lindsay Vidal, MA '05, joined Atlanta Mayor Andre Dickens' communications office.
R. David Wert, MA '69, is a cartographer with the federal government.
Elizabeth Woodworth, BA '05, is a partner in the Global Sustainability & Social Impact practice at FINN Partners, an integrated communications agency. She advises Fortune 500 companies on their sustainability strategies, communications and stakeholder engagement.
Fernando Zambrano, BA '18, MS '20, is a consultant at Deloitte. He was previously an intern for Apple Inc., providing cartography and analytics services to nonprofits.