Mona Atia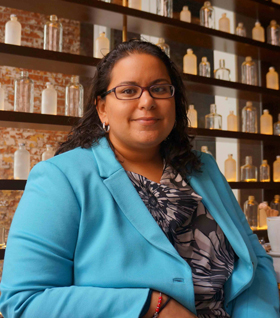 Mona Atia
Associate Professor Geography and International Affairs
Geospatial Science and Applications
---
Contact:
Office Phone:
(202) 994-7757
1957 E St., Room 512L
Washington, DC 20052
Mona Atia is Associate Professor of Geography and International Affairs at the George Washington University and Director of the Middle East Studies Program. She is a critical development geographer whose areas of expertise include Islamic charity and finance, philanthropy and humanitarianism, housing/urban development, the production of poverty knowledge and the spatial politics of marginalization.
Office Hours:
Tuesday 2:00 - 3:00 PM
and by appointment
---
Middle East and Islam
International Development
Critical Social Theory
Cities in the Global South
GEOG 1001 - Human Geography
GEOG 2148 - Economic Geography
GEOG 3154 - Geography of the Middle East and North Africa
GEOG 6250 - Geographical Perspectives on Development
GEOG 6201 - Geographic Thought
GEOG 6262 - Geographical Perspectives on the Middle East
2017    Atia, M. and Herrold, C. "Governing Through Patronage: The Rise of NGOs and the Fall of Civil Society in Palestine and Morocco." Voluntas.
2017    Rignall, K. and Atia, M. "The global rural: Relational geographies of poverty and uneven development", Geography Compass, DOI: 10.1111/gec3.12322
2016    Herrold, C. and  Atia, M. Competing Rather than Collaborating: Egyptian Nongovernmental Organizations in Turbulence. Nonprofit Policy Forum, 7(3):389-407.
2015   A Roess, L Carruth, M Mann, I Kabbash, S Melaku, M Atia, M Mohamed, S Bansal, S Lahm, Y Terefe, M Salman. "Livestock movement and emerging zoonotic disease outbreaks: applying ecological, network, and sociocultural theories to assess the risk of Middle East respiratory syndrome from camel trade in Ethiopia and Egypt," The Lancet Global Health 3(S26).
2014    Poverty Mapping: A Genealogy.  Middle East Report. 272, Fall, 20-21.2013. Building a House in Heaven: Pious Neoliberalism and Islamic Charity in Egypt. University of Minnesota Press.
2013    Building a House in Heaven: Pious Neoliberalism and Islamic Charity in Egypt (University of Minnesota Press, 2013)
2012    "A Way to Paradise: Pious Neoliberalism, Islam, and Faith-based Development." Annals   of the Association of American Geographers, 102(4), 808-827.
2012    Cornwell, Graham and Mona Atia. "Imaginative Geographies of Amazigh     Activism in Morocco" Social and Cultural Geography 13(3), 255-274.
2011   Atia, Mona. "Innocent victims": An accounting of anti-terrorism in the Egyptian legal context. Journal of Islamic and Near Eastern Law , 9(1).
2008   "The Arab Republic of Egypt" in From Charity to Change: Trends in Arab Philanthropy, eds. Barbara Ibrahim and Dina Sherif, Gerhart Center for Philanthropy and Civic Engagement, American University in Cairo Press.
2007   Atia, Mona. "In Whose Interest? Financial Surveillance and the Circuits of Exception in the War on Terror." Environment and Planning D : Society and Space. 25(3), 447-475.
2007   Wyly, Elvin K., Mona Atia, Elizabeth Lee, and Pablo Mendez. "Race, Gender, and Statistical Representation: Predatory Mortgage Lending and the U.S. Community Reinvestment Movement." Environment and Planning A. 39(9), 2139-2166.
2006   Wyly, Elvin K., Mona Atia, Holly Foxcroft, Daniel J. Hammel, and Kelley Phillips-Watts. "American Home: Predatory Mortgage Capital and Spaces of Race and Class Exploitation in the United States." Geografiska Annaler B: Human Geography, 88(1), 105-132 .
2004   Wyly, Elvin K., Mona Atia, and Daniel J. Hammel. "Has Mortgage Capital Found an Inner-city Spatial Fix?" Housing Policy Debate , 15(3),623-685.
2008  PhD  Geography  University of Washington--Seattle, WA
2002  MSc. Cities, Space and Society.   The London School of Economics and Political Science-- London, U.K.
2001  BS Honors Business Administration, Minor: Political Economy, University of California--Berkeley, CA
2015    PI with Samlali, Said. "The Moroccan City Without Slums Program: When Slum Dwellers Resist." Funded by The Arab Council of Social Sciences.
2014    National Science Foundation CAREER Award: "The Impact of Poverty Mapping on the Geography of Development." (for the period July 2014-July 2019)
2014    University Facilitating Fund, George Washington University.
2013    Elliott School of International Affairs Faculty Research Fund, George Washington University.